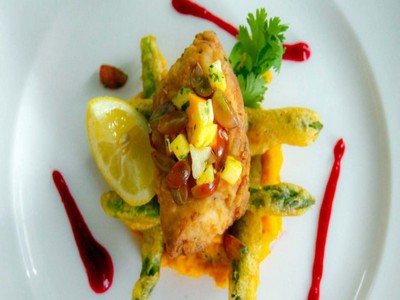 ABHTI Atlantic View Restaurant

The Atlantic View Restaurant, with its scenic and breathtaking view, is the perfect location for lunch with easy parking and away from the hustle and bustle of St. John's. The menus which are prepared and served by our students, showcase their culinary skills, and caters to every palate, filling you with a Caribbean zest.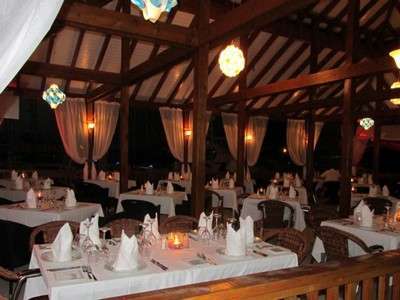 Akropolis Steakhouse & Pizzeria

Akropolis Steakhouse & Pizzeria offers a newly designed menu featuring a variety succulent steaks as well as a number of tasty pizzas and much more
It's one of those times when you sit down and question whether you are in Antigua. Of course the fact the air is warm and yachts and dinghies can literally tie up marina side reminds you that you are in the Caribbean. Located on the water's edge in Jolly Harbour, Al Porto is all about great quality, simple, freshly prepared pizza, and homemade pasta served in a stylish contemporary surrounding.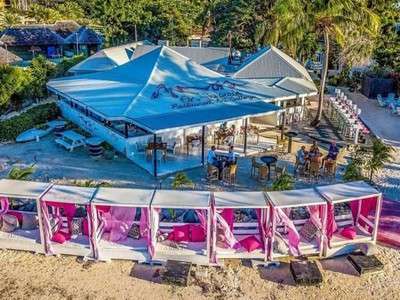 Ana's Restaurant & Art Gallery
At Ana's Restaurant and Art Gallery we are very proud to say that we have become synonymous with elegance, style and grace. Since opening our signature hot pink doors in May 2014 the restaurant has grown in popularity in Antigua and Barbuda.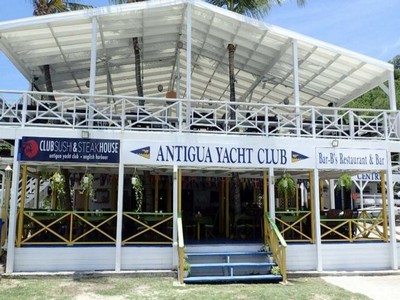 From the perfect yacht club deck, you have a perfect view of the super yachts pulling in and out of the Antigua Yacht Club Marina at Famouth Habour, and can enjoy the view while you dine and drink. The citrusy colour combination of oranges, sunny yellows and limey greens are a delight on the eyes, with fresh flowers, fruits and even the owners outfits complement each other – they can't help but bring a smile to your face.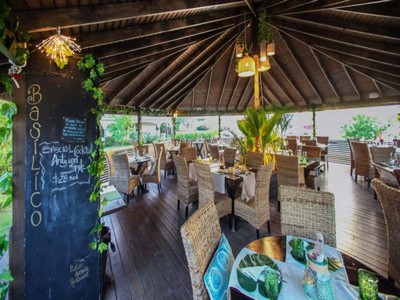 Basilico Restaurant is an authentic Italian Restaurant. We remain faithful to our traditions preparing home made Pasta, delicious Pizza, regional recipes.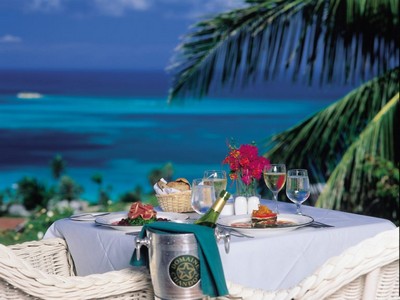 Copper & Lumber Store Historic Inn
The Bay House Restaurant & Bar is a prime destination on the island, popular with locals, business travellers and visitors alike. We offer catering for business functions, welcoming business from across Antigua and beyond. Islanders use the Bay House Restaurant for corporate functions, weddings, private parties and other celebrations.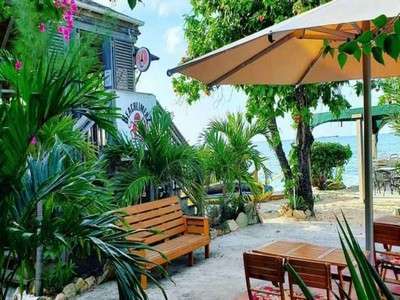 BeachLimerZ is a local, family owned and operated bistro-bar located on Antigua's Historic Fort James Beach, one of the Caribbean's most stunningly beautiful beaches. This stylish, informal, rustic beach bar features the liberal use of local woods for bar and furniture, together with hand-made copper light fixtures fashioned by an island artisan.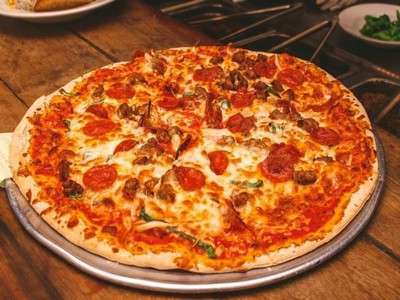 It is not only rightly recognized for serving some of the best pizzas in the Caribbean, but is also renowned for its great food featuring international favourites and local specialities. The fun atmosphere and historic setting attract both locals and visitors, and over the years an impressive list of celebrities.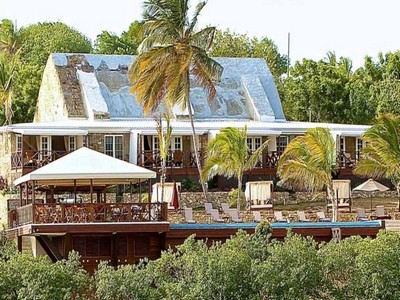 Enjoy our beautiful new poolside restaurant, Boom, located in front of Gunpowder House with its spectacular infinity edged pool overlooking Nelson's Dockyard. Serving delicious lunches and cocktails from 11 to 6pm. Take a dip in the pool, laze in the hammocks and sun beds or get pampered in the spa.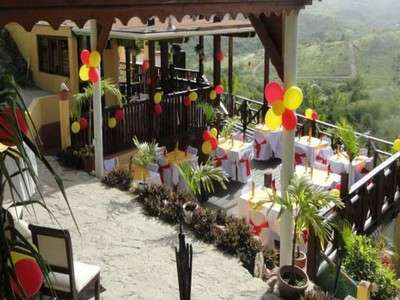 Buba's Hideout Bar & Restaurant

A multi-cuisine restaurant in Buckleys with delicious food, beautiful views and personal service.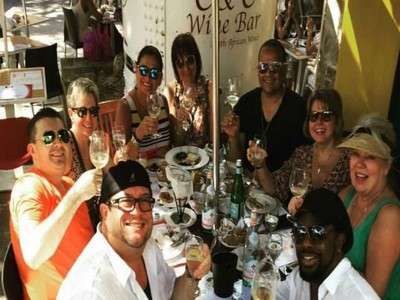 C&C Wine House is a little gem, nestled in the courtyard of historic Redcliffe Quay. We are the place where wine lovers can pair amazing wines with tasty coconut shrimp, pastas, burgers, paninis and signature meals such as Scampi Diabolique.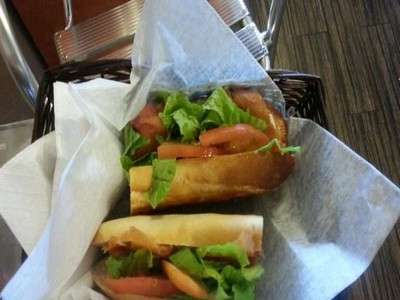 Café Bella is a bright modern café, with instant visual charm. Whether you are in conversation on the outdoor terrace or reclining in the air-conditioned dinning lounge you're never more that a few feet from tasteful island artwork.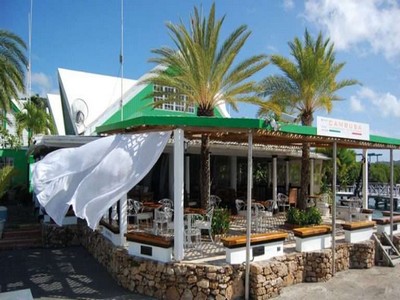 An adventure made of flavors and smells, following the past of a glorious cuisine winking at the contemporaneity. Selected and well-kept ingredients treated with love and passion protagonists together with you.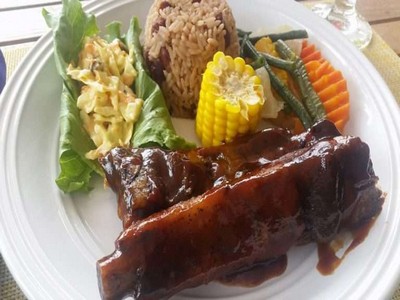 Boasting iconic and awe-inspiring views of the Falmouth Bay our Captain's Quarters Restaurant & Bar offers guests both formal and informal alfresco dining.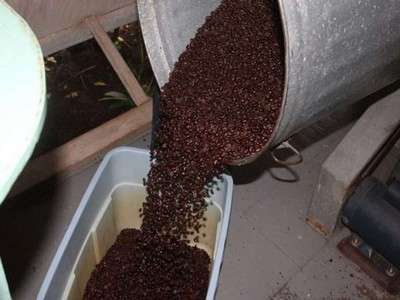 Carib Bean Coffee Roasters
Carib Bean Coffee Roasters is a coffee roasting company based on a hilltop overlooking Falmouth Harbour. They source the finest speciality coffee from around the Caribbean Basin as well as other exotics and roast them daily. With over 20 years in the business, their coffee loving team of professionals have a wealth of experience and a passion for what they do.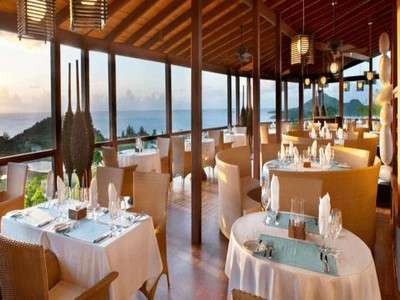 Arguably the most spectacular dining location in Antigua, Carmichael's gourmet restaurant sits at the highest point on Sugar Ridge. With floor to ceiling windows around the restaurant, enjoy views of the Caribbean and surrounding lush greenery. Perfect for watching the sunset or stargazing, Carmichael's chic open-air space offers a first class dining experience.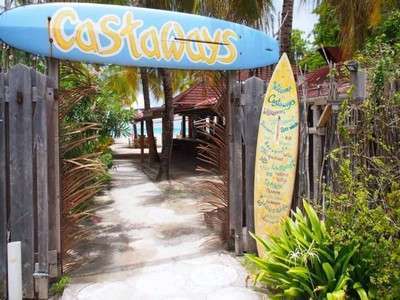 Castaways is the quintessential Caribbean beach bar—a rustic setting on a perfect white sand beach with a laid-back, Riviera-type vibe, and featuring unique Caribbean cuisine as well as authentic Indian Cuisine. What more could you ask for?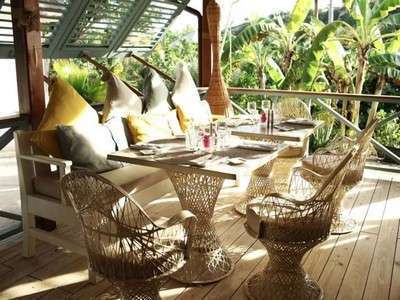 Situated on Pigeon Beach. We offer classical French cuisine with Provence-style influences and local ingredients. Our classically French trained chefs have helped to conceptualize and refresh the menu.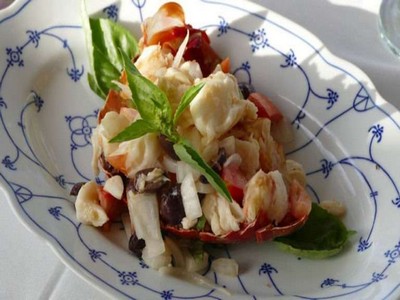 Cecilia's High Point Café

Located on the water's edge with fabulous ocean views and easy access to the soft sandy beach, this Café/Bistro will capture your imagination and taste buds both at the same time. An eclectic array of comfy chairs and tables set out on the wooden deck, with jazz, r&b, soul and Café Del Mar playing in the background, produce an enchanting and chilled out ambiance at this fabulous location.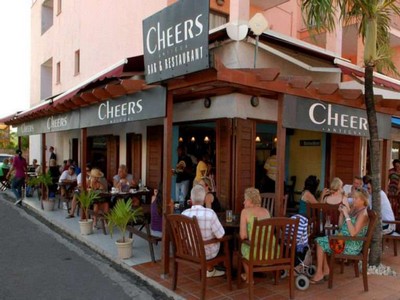 Cheers Bar is known as the meeting point where you can meet, use free wifi and relax in a friendly environment. A trip to Antigua is not complete without our mouth tasting lobster.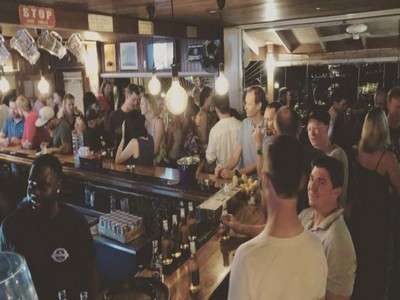 This bustling Café, located on the second floor of the Antigua Yacht Club Marina Building in English Harbour has stunning views over Falmouth Harbour and the multi-million dollar yachts which sail in and out of Falmouth Harbour daily.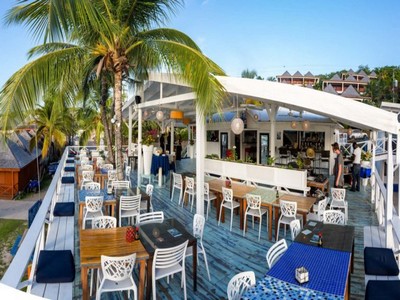 Located in the heart of the sailing community, on the top floor of the Antigua Yacht Club, overlooking the marina, with an airy, but covered outdoor environment with palm trees. Open for dinner 7 nights a week between 5 -11pm you can savour the freshest locally caught Yellow Fin Tuna, Mahi Mahi and Wahoo.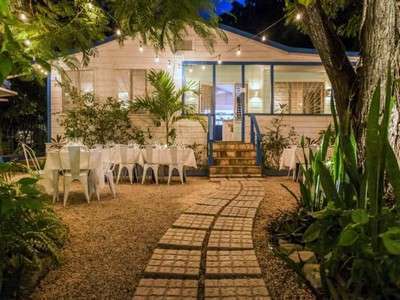 Nestled within a lush private garden in the heart of historic English Harbour, Colibri's quaint cottage and cabana bar exude Caribbean charm. Serving the best of French and Créole cuisine, French wine and craft cocktails, Colibri is at the top of Antigua's culinary offerings. Chic, laid-back, and always with a warm welcome, it's an experience not to be missed.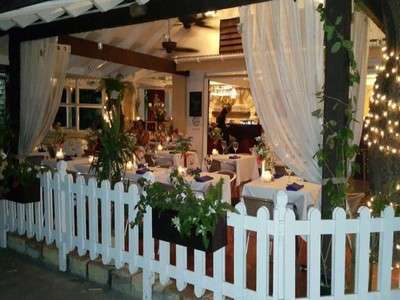 Located in the Redcliffe Quay this garden oasis offers a fusion of International and Caribbean dishes to cater to all tastes.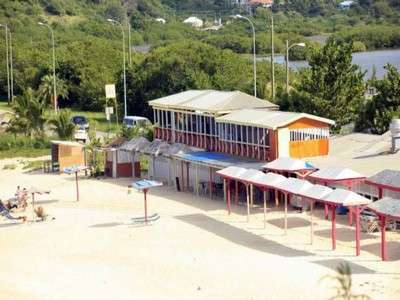 Darkwood Beach Bar & Restaurant

Located on one of the most beautiful beaches on the island for its clear waters and white sand, this relaxed beach bar and restaurant offers a full line of services to all beach goers. Whether you are arriving on a cruise ship or staying on Antigua and exploring many of the beaches, Darkwood Beach Bar is the perfect place to taste some local specialities, experience local culture, bask in the gorgeous Caribbean sun and explore the underwater life.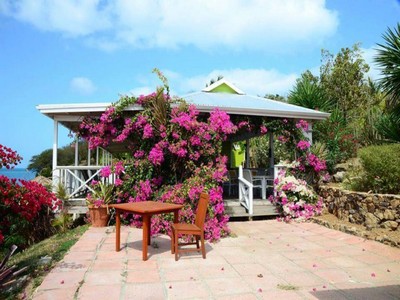 Dennis Cocktail Bar & Restaurant

Dennis Beach Bar & Restaurant offers modern Caribbean cuisine at its very best, set next to the beautiful turquoise waters of the Caribbean Sea and colourful surroundings, a friendly and personal service complete with a menu where each dish is stylishly presented for a contemporary edge.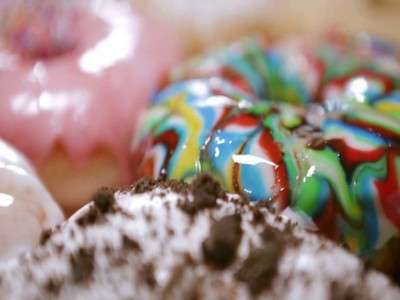 Donut Ace is a locally founded upstart began in 2015 by chef Akeem C. Edwards, their vision is to become a mainstream food outlet where anyone can order freshly made doughnuts. Whether for their personal delight, that special person or for an event or party.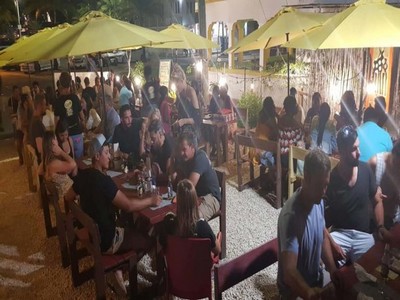 Flatties Flame Grill, located in the heart of English Harbour on Dockyard Drive, brings you a new dining experience with a flair of South African and Portuguese dishes.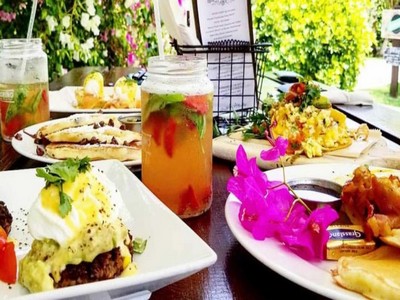 "The Garden Grill is located just outside the old Tides restaurant or the New La Boussola in Duchman's Bay Antigua. It's near the airport so if your in lay over hop a cab and get out of the airport for some really, really good food."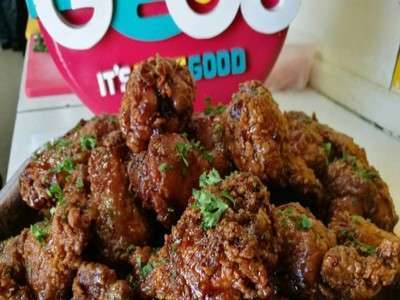 "Great food excellent presentation Outstanding customer service."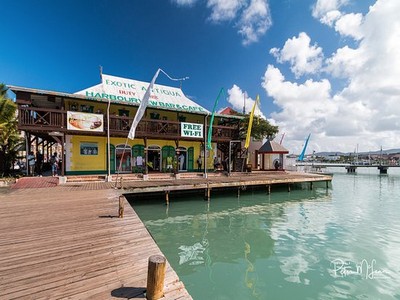 Savour a splendid bay view from the Harbour View Bar & Café. From its vantage point above the Caribbean's #1 shop 'Exotic Antigua', Harbour View has a location that is pretty hard to beat. It's the only waterfront bar and café downtown and its elevated position allows patrons to spend time in the lounge area enjoying the cooling trade breezes, while watching the world go by.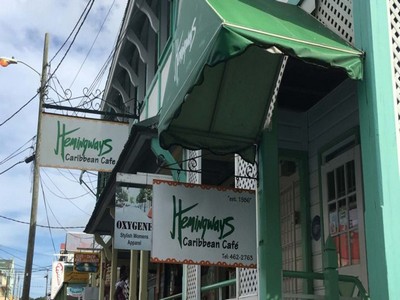 Hemingways Caribbean Café

Welcome to Antigua and Hemingways Caribbean Restaurant & Cafe. Fun by day, Hemingways is a great place to relax for a cool tropical thirst quencher and offers a lunch menu of soups salads, sandwiches and Caribbean island seafood specialties including lobster.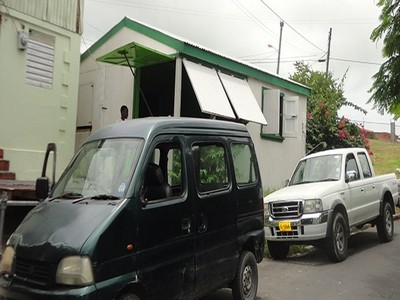 Located just a short drive from the airport in the village of Barnes Hill, Idash Ital Shop has been providing villagers as well as the entire country with tasty healthy Vegan dishes since 1994. Open Monday through Saturday for breakfast, lunch and dinner, Idash offers a wide variety of veggie dishes to include rice with ital sauce, pastas, dumplings, fungi, peas balls, veggie patties etc. Also healthy fruity local drinks to go with your healthy meal of choice.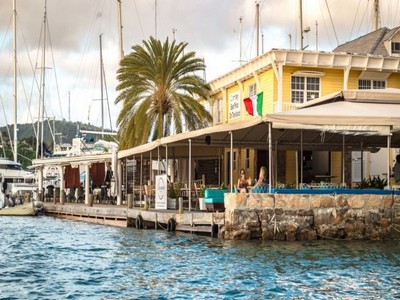 Incanto Restaurant Lounge Bar

Welcome to Incanto Restaurant & Lounge bar, a place where you can relax in a beautiful atmosphere enjoying one of the best heavens in the world, Antigua. We want to let you live the dream with us in this beautiful tropical paradise. Here at Incanto we always use fresh and selected produce from the island's farmers.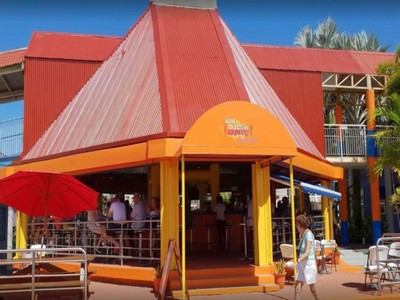 Located in the heart of St. John's, Island B-Hive Sports Bar is the perfect place to stop for a refreshing drink or a meal when spending the day in St. John's. Literally a minute walk from the Heritage Quay cruise ship dock, it's also a great meeting point and watching spot.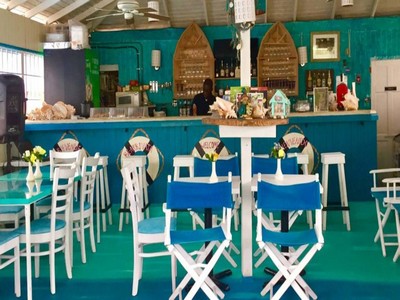 "Absolutely amazing food. I have been through culinary heaven and Sandra is an artist with the flavors of the Caribbean. I absolutely loved it there. And eating a great meal with that amazing view of Falmouth Harbour is quite unbeatable. Thank you for being such a great host."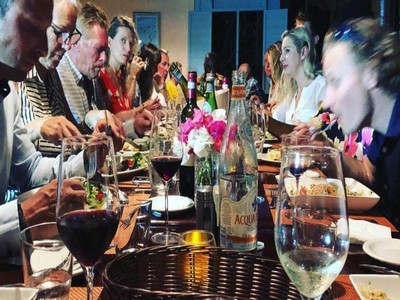 Jackson's Bar & Restaurant

Jackson's brings an exciting new culinary experience close to the English Harbour and Falmouth area. Feel like getting out of the hustle and bustle of the harbour and try something new? Then Jackson's makes an interesting alternative.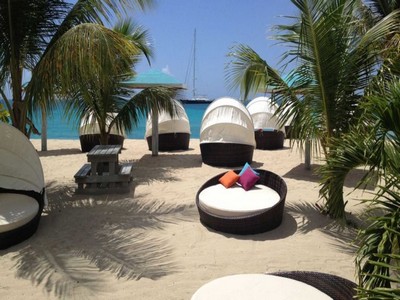 Located on one of Antigua's most beautiful beaches, overlooking the Caribbean Sea to the emerald isle of Montserrat, Jacqui O's is a secluded beachfront haven. "With rustic chic interiors & an amazing beach setting, this iconic restaurant bar delivering fresh modern French cuisine & cocktails has become a favourite again." Jacqui O's has restored the relaxed lifestyle and good times expected when visiting the Caribbean. With a very friendly and relaxed atmosphere, it truly is a unique experience.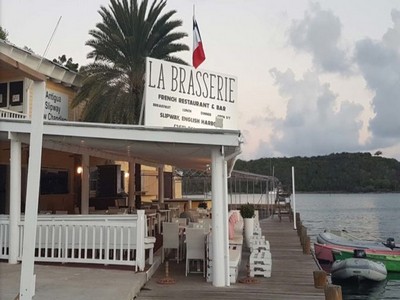 La Brasserie French Restaurant & Bar

Opened this November in time for the 2017–2018 season, La Brasserie is the newest addition to English Harbour's restaurant scene. Combining traditional French culinary creations, exquisite décor and superior service, La Brasserie provides a refreshing dining experience at the heart of Antigua Slipway in English Harbour.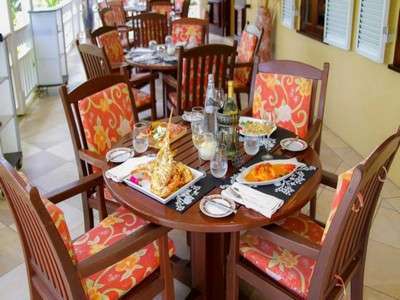 Whether you're looking for that special place to host a cozy dinner for two or want to take the family out on a relaxing evening, our restaurant has just the perfect setting. We have the space to accommodate private parties and large groups.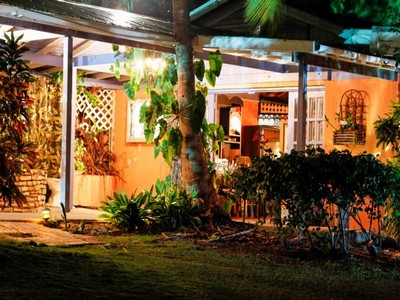 Upon entering the restaurant, be prepared to enjoy the elegant, tropical surroundings of the dining room and bar. They are both irresistibly alluring and beautifully romantic. Relax and enjoy a seamless dinner, complete with a supremely polished and personalized service from your host Philippa and the rest of the staff.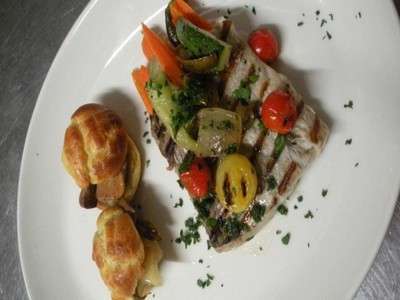 With 20 years of service in the harbour, Le Cap Horn remains a benchmark for refined, French cuisine with subtle Caribbean and Latin American twists. The owners, Gustavo and Hélène, make the most charming hosts. Their hot stone grills are an interactive dining experience.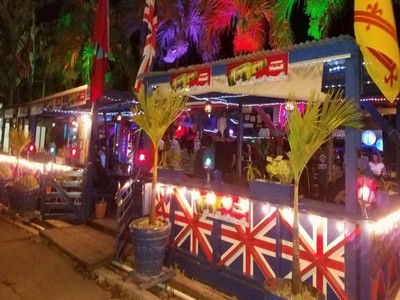 It has been said that, "Life is not an easy road, but there are better times to be had around the corner" Life on the Corner is one of those casual and laid back places where better times are always to be found. Gill and Carolyn invite you to come and join them as they watch life go by.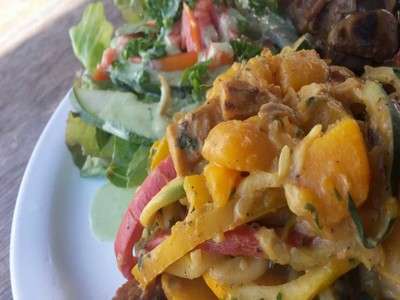 We prepare your meal using herbs, fruits and vegetables which come fresh from our garden daily. For example, we use our own locally grown tomatoes to make our own pizza sauce! Our menu changes almost daily so you never get bored, and it includes hits such as our famous veggie lasagna, herbal pasta, veggie pizzas, veggie roti, black bean burgers, lentil pie, cassava balls, stir fried zucchini, curry chick peas, stir fried veggies, stewed red beans, and a host of other vegan selections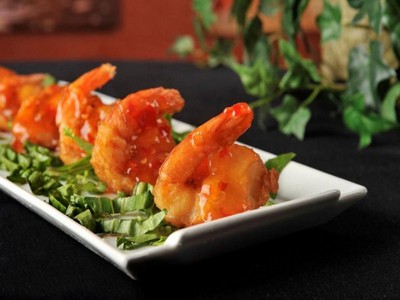 Discover the Lombardia Region of Italy. Italian gastronomy is made up of 21 diverse regional cuisines. Mario's draws its cooking style from the beautiful region of Lombardia, where E.A. Mario, grandfather to the restaurant's first authentic Italian chef, was born to a family of humble means.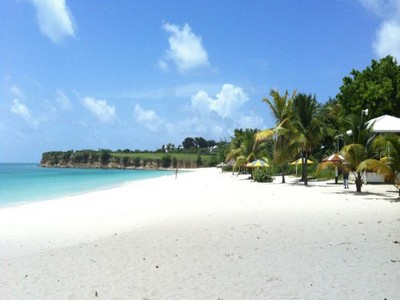 Located on Fort James beach, a white sand beach just 5 minutes from St. John's, this unassuming beach bar and restaurant has been an Antiguan institution for years. Whether you are arriving on a cruise ship or staying on Antigua, Millers by the Sea is the perfect place to take full advantage of your beach day by tasting delicious local dishes, experience local culture and bask in the gorgeous Caribbean sun.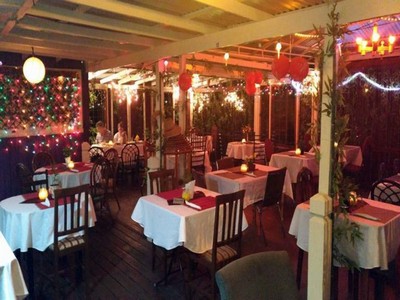 Miracle's South Coast Restaurant & Bar

Fresh locally caught fish is brought in everyday. You can choose from Mahi Mahi, Snapper, Wahoo, Tuna and sometimes even shark! Remember the fish changes daily. There are several ways in which we can cook it for you so take a look at our menu and decide!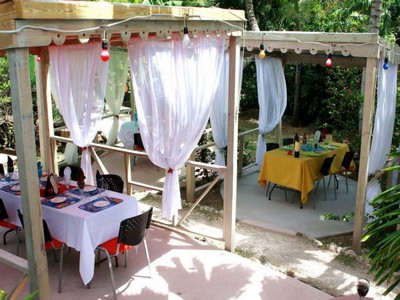 Famously Known as "Table D'hôte", Nicky's Restaurant & Bar is owned and operated by Mrs. Nichola Lucas. Her restaurant has been providing delicious island cuisine at its new location in Friar's Hill Development for the past 5 years. Our entrées are prepared with ingredients grown on the island and flavored to make your visit memorable and unique.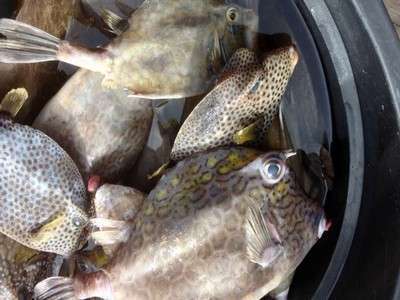 Taste the flavor of Antigua! We operate from a rustic stall at Dark Wood Beach where persons can enjoy an array of delights such as seasonal fruits, candies desserts, food, drinks, teas and homemade wine.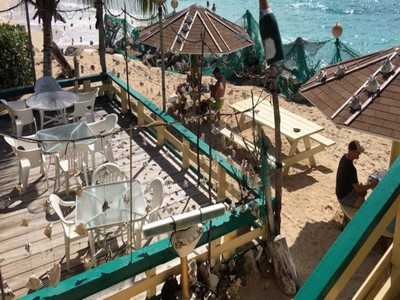 OJ's Beach Bar & Restaurant

Decorated with local artwork and a variety of driftwood, ropes and artifacts, and especially at night, this establishment has a very charming and romantic atmosphere.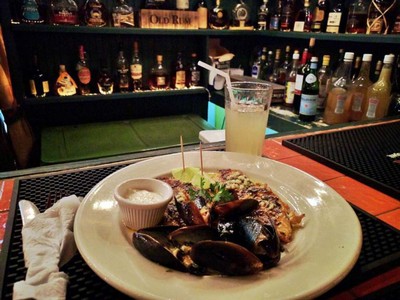 "This place is a MUST!! Went with family and was warmly welcomed as we entered. Bert is awesome! We had the bouillabaisse, conch fritters and prawn fritters to start. They were all very delicious and the conch fritters are the best I've ever tasted!! The lobster was incredible and the snapper was perfect! Even the crispy fins were delicious lol! This is the spot you need to head to when you visit the island!"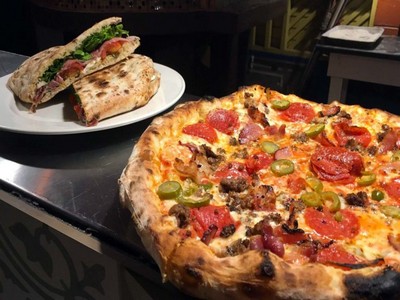 Located across from Nelson's Dockyard, Ristorante Paparazzi offers incredible and authentic Italian cuisine in an island paradise. Our extensive menu – coupled with a wine list painstakingly chosen to complement every dish – features an abundance of both traditional plates and inspired creations, such as the grilled octopus salad in green herbs sauce with fennel and arugula, and Angus tenderloin with rosemary potato, asparagus and beef reduction.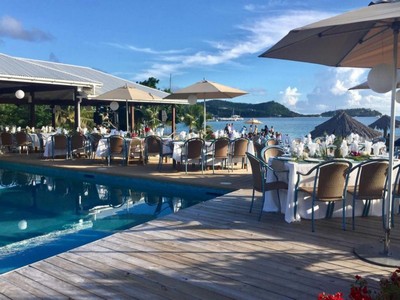 Located in the perfect sunset spot on the Eastern side of Falmouth Harbour, Papa's is the perfect all day hotspot. A casual dining experience where you can come early and leave late, take a dip in the pool or a paddle in the ocean, eat great food, sip on perfect cocktails at sunset and leave having made new friends.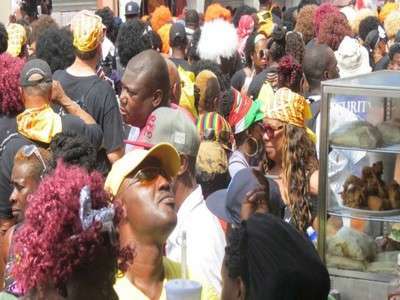 If you're shopping, sightseeing or just strolling through St. John's, Paradise Café is the spot to refuel with full-flavored local cuisine.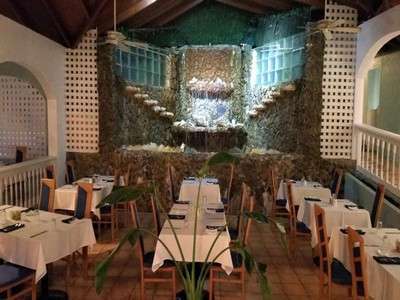 Pari's Pizza & Steak House

"We popped in here as we needed a change from the food provided at our all inclusive hotel which was 5 mins down the road, and I'm so glad we did. The food was tasty (we had salad, pizza and pasta between us) portions were generous, and the rum cocktail certainly packed a punch!!"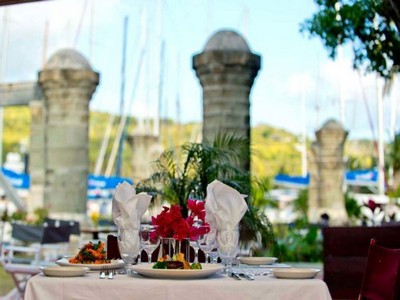 Pillars restaurant is located in the beautiful and historic Admiral's Inn. The kitchen is headed up by Chilean born, 5-Star chef Juan. Chef Gil is known for his broad range of culinary expertise and reflects this in his daily and special menus!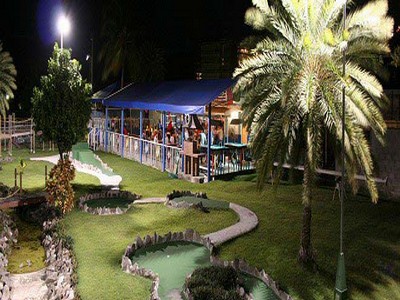 With an excellent location on the approach to Dickenson Bay Beach, Putters Bar and Grill is a superb night out for groups of friends and families whether living in Antigua or on vacation.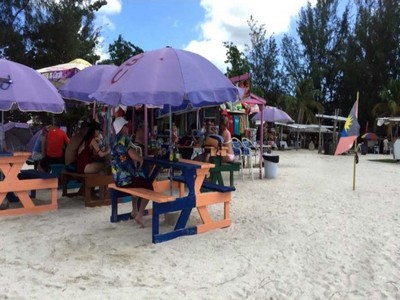 Sandra's Beach Shop Bar & Grill

Sandra's Beach shop is a local shop, bar and brill found in Antigua. Sandra's beach shop Bar and Grill has been operating for 20 years and still running.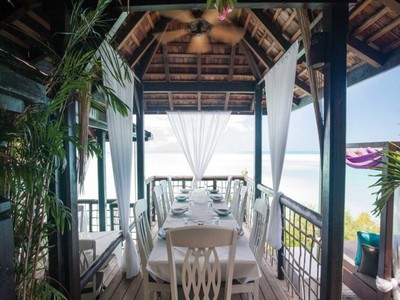 Sheer Rocks Restaurant Bar Lounge

Poised artfully on the edge of a remarkable sunset facing bluff and terraced in a cliffside, protruding over the rocks of Ffryes Bay, this series of bougainvillea-draped pavilions, four-poster daybeds and plunge pool delivers a seductive backdrop in creating one of the most beautiful and must-visit dining spots and experiences in Antigua.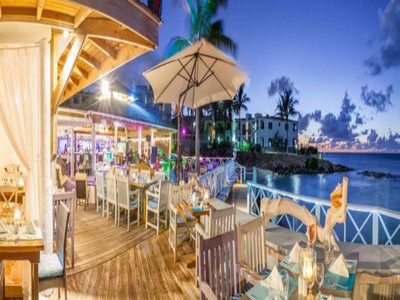 Sottovento on The Beach, Italian restaurant true pied dans l'eau, offers unique atmosphere and unforgettable moments for all our guests. The perfect place to sip a drink at sunset time, for a business lunch, for your special event or private wedding with soft lounge music.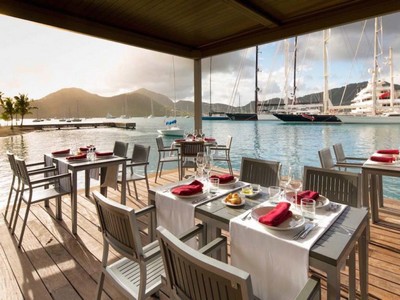 With a dining deck that extends right out over the harbour, South Point's restaurant is a popular choice for lunch or dinner. The signature small plate menu showcases authentic flavours inspired by the best of Mediterranean and Asian cuisene with one thing in common: fresh, high quality ingredients. There is also a Sushi Bar. The Lounge Bar opens for breakfast from 7am.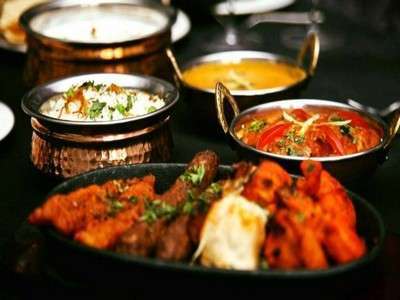 A great meal comes with great service, atmosphere and of course the company. Everything we create in our kitchen is sublime, from the textures to the flavours. We aim to enhance and elevate the Indian classics.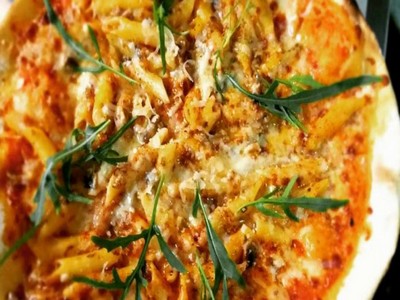 Charming rustic, hillside restaurant with stunning views overlooking Dickenson Bay. Serving an exquisite Mediterranean cuisine.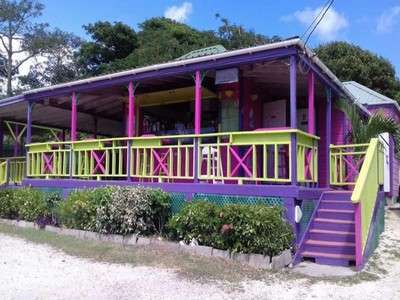 "Stopped for a quick lunch and asked for a recommendation from the waitress. She recommended the pulled pork rollup and burgers. We ordered a pulled pork rollup which was super, an island which was also great and my teenager got a pizza rollup which she loved. Took a little time to get our order, maybe 15 minutes but it was fresh and piping hot! Prices good, took Visa, clean bathroom, little playground for tots, nice atmosphere and had a nice view."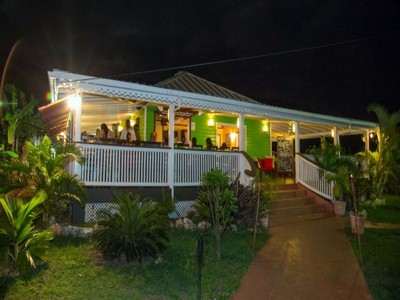 Tannins Wine Bar & Restaurant

Tannins Wine & Tapas Bar and Restaurant is the only authentic Wine & Tapas establishment on the Island of Antigua, combining an exclusive wine list consisting of highly respected labels, along with a breathtaking and innovative Caribbean Tapas menu, created by our renowned internationally trained Chef Mr. Paul Nedd.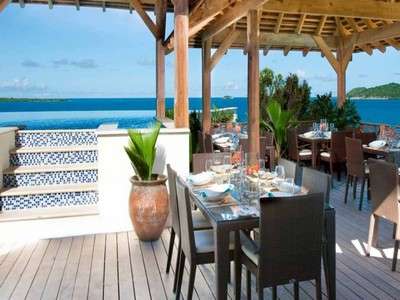 The Bay restaurant is located on a bluff overlooking the tropical waters of Nonsuch Bay, carefully designed, with you in mind, to make the most of the dramatic scenery. Diners are seated at tables on a cascading series of terraces contoured along the edge of the hillside.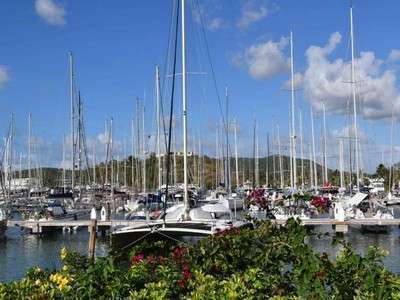 The Crow's Nest Restaurant and Bar overlooking the Jolly Harbour Marina is open for breakfast, lunch and dinner. Come and enjoy the beautiful setting of the Jolly Harbour Marina surrounded by tranquil waters, majestic yachts and artisan landscape hillsides.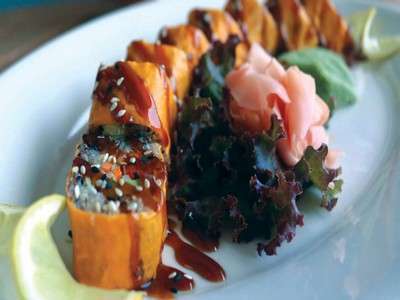 Renowned as Antigua's best sushi bar and deli-café, The Larder also offers an upscale takeaway and catering service. The bar provides an excellent selection of fresh juices, Premium spirits and fine wines. New features include a "Build Your Own Salad" bar, Illy coffee, Gelateria and genuine Napolitano style thin-crust pizzas, baked to-order in a woodstone oven.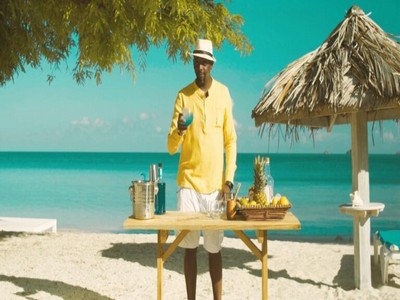 Jet-off to sunny Antigua and Barbuda, with Antigua and Barbuda's newest speciality cocktail, 'The Lift Off', inspired by the Antigua and Barbuda Tourism Authority's 'Your Space in the Sun' campaign and created by Antigua and Barbuda award-winning mixologist, Altino Spencer.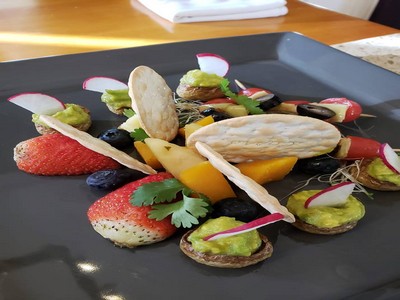 Kahyeme Benjamin is not just a local celebrity chef in his own right, but also the founder and owner of The Perfect Chef Private/Personal Chef Services.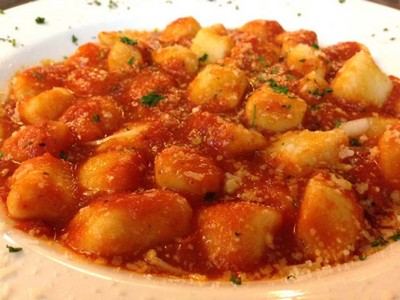 Ticchio Italian Food & Wine

Ticchio Italian Food & Wine is a new concept store that has inside both a store and a restaurant. The store sells a wide range of deli coming from Italy, from pasta to ham, from Parmigiano Reggiano to extra virgin olive oil. Mozzarella di Bufala and Burrata arrive weekly from Italy by air.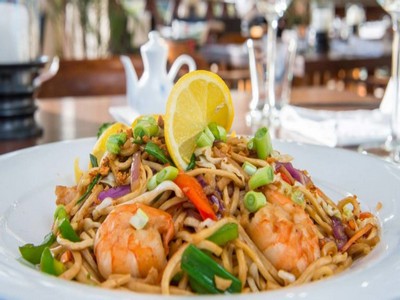 Touloulou Bar & Restaurant

Our chefs are dedicated to the fine art of true Asian cuisine masterfully prepare a wide variety of styles from the East and includes a tempting selection of signature International and Caribbean fusion dishes.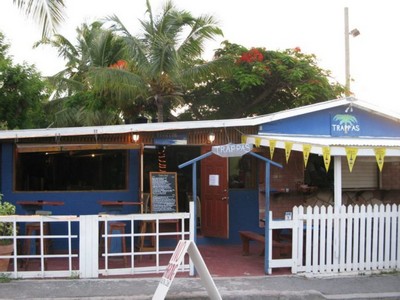 In the heart of the Yachting paradise that is English Harbour, Trappas Bar and Restaurant broke the mould and put English Harbour on the map year round.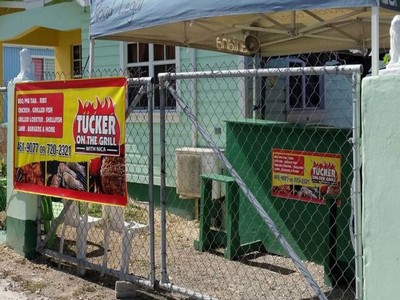 "I have been to a lot of grill food places but this place got me coming back EVERY TIME!! The first thing that got me was the ambiance, then came the food presentation which is everything to me! And of course the food NEVER disappoints… A foodgasm with every bite! #kudus to Tucker and Nica!! Oh, how could I forget the friendly staff and superb customer service. I could go on and on and on but I will leave it up to you to go check them out and see for urself!"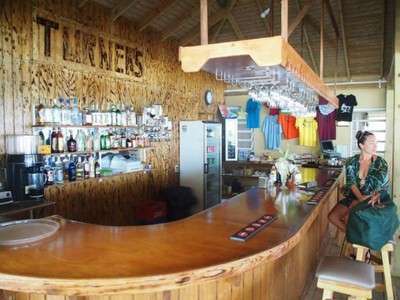 Turners Beach Bar & Restaurant

Turner's Beach Restaurant offers casual Caribbean dining in a picturesque beachfront restaurant. Popular with the locals, we enjoy a large Sunday crowd who enjoy our seafood and grilled steaks just steps away from a pristine beach.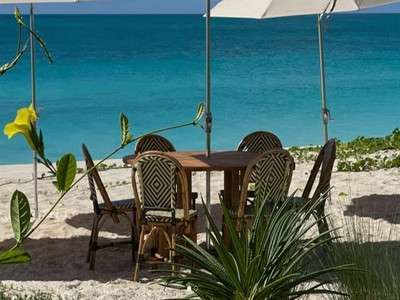 Japanese Restaurant | Bar & Lounge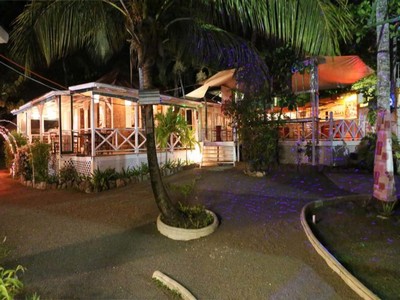 The disco bar features the latest dance hits while the chill out area plays relaxing tunes in a comfortable environment. On special events such as costume parties and live performances, both areas are redesigned for the occasion. Its array of ever changing international DJs and performance artists ensures that each night you're in for a both visual and stereophonic extravaganza…